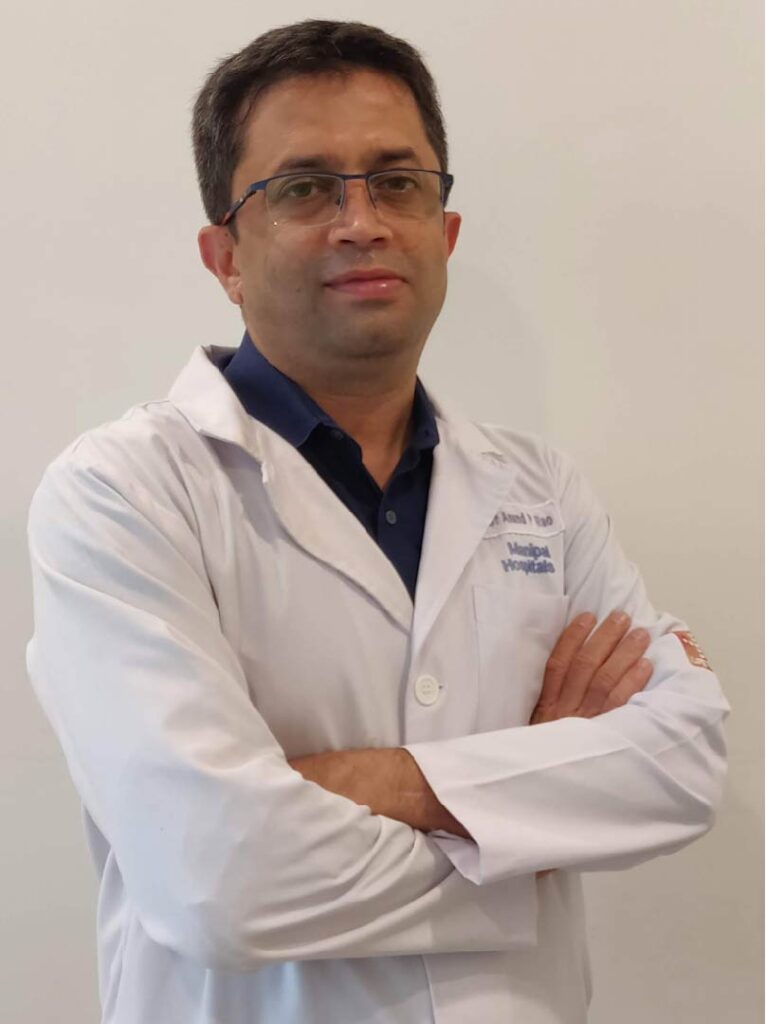 Dr. Anand P Rao is one of the leading Pediatric rheumatologists in the country. He is currently the section head of Pediatric rheumatology division at Manipal Hospital and Indira Gandhi institute of child health.  He has been consulting at Vijaya children's clinic since 2004. He is the President of the Pediatric rheumatology society (India) currently. He has to his credit a sizeable number of publications in national and international journals and has been an invited speaker at national and international conferences. He has been instrumental in discovery of the first human subject of a very rare genetic condition.
He has had experience with treatment of more than 1600 patients with Pediatric rheumatologic illnesses.
Highlights of his career                   
MBBS- 1999 from Bangalore Medical college, Bangalore.
MD-2004 from Grant Medical College, Mumbai
DNB (Pediatrics)- 2005
Fellowship in Pediatric rheumatology at Giannina Gaslini Hospital, Genoa, Italy (2010-2011)
Hon. Secretary of IAP, Bangalore- 2008 and 2010
Hon. Secretary of Pediatric rheumatology society- 2015-2016
President of Pediatric rheumatology society- 2018- 2020
Recognized guide for DNB (Pediatrics)
Dr Anand is a perfect example of conviction and humility. I would like mention that I was referred to Dr Anand for my four and half year old daughter who was having recurring fever of unknown origin . My daughter was previously admitted to hospital for over 15 days and the treatment administered there left me completely confused and unsatisfied. Problem started when fever recurred after 10 days of discharge and none of the doctor could give any confidence ahead. I was completely demoralized and dejected with all sorts of negativity and it was this mental state I came to Dr Anand. He was completely focussed while discussing my case and by end of it I was confident that whatever it may be, everything is going to fine. I was really touched to see that his clinic postponed few followup appointment to accommodate my urgent case. His approach is Least medicine and maximum care, and one more thing I would like to add that he not just treated my daughter but also ensured that I should not get troubled in the process. My daughter is completely fine now and kind of confidence that is cemented in me for Dr Anand, I would trust his advise for my life. I am extremely thankful to Dr Anand.
I was at a very low point and was undiagnosed for months. Dr Anand Rao was warm, understanding, reassuring and was extremely patient with me. He was the first to suspect and pick up my diagnosis, and refer me to a specialist. Will forever be indebted to him.